Want to buy a gift for a blogger friend of yours, are you a blogger looking to treat yourself, or perhaps you want to add some of these blogger gift ideas to your wish list?
Either way, you've come to the right place!
The below brilliant gift ideas are perfect for bloggers, but also ideal for social media influencers, vloggers, podcasters, entrepreneurs and small business owners.
30+ Gift Ideas for Bloggers & Small Business Owners
This post contains affiliate links. Disclosure here.
Subscriptions
1. Graphic Design Subscription
Your best options (and the most popular) are…
Adobe Creative Cloud: Give the gift of design with an Adobe Creative Cloud subscription to the best quality design software available – PhotoShop, LightRoom, InDesign, Adobe Stock, etc.
Canva Pro: The free version of Canva is used by loads of bloggers for easy to design graphics. However, the paid version (Canva Pro) is far superior with many premium features not available in the free version.
This includes:
Access to over 4 million premium stock photos, images, icons and templates
1000+ premium fonts or upload your own
Custom brand kits adding colours, fonts, logos to make designing that much faster
Resizing of designs to any format
A GIF/Movie Animator
Unlimited folders
–
Learn More About Canva Pro –  Canva Pro Review: Is It Worth It To Upgrade?
–
2. Social Media Scheduler
Bloggers rely on automating their social media accounts to save time, help with planning and get the best results. Here are the schedulers I swear by:
Tailwind: An official partner of Pinterest and Instagram, Tailwind enables bloggers to schedule an entire week (or way more) of pins/posts. This content is released at the most optimal times for the very best performance.
Tailwind is a huge time saver for bloggers and dramatically grows website traffic!

SmarterQueue:  This social media scheduler is an excellent Facebook scheduler (I couldn't live without it). Ideal for the blogger who manages multiple Facebook pages and groups. It's also a preferred scheduler for all other social networks – Instagram, LinkedIn, Twitter and Pinterest.
3. Premium Stock Photos
Pixi Stock: Give the gift of beautiful imagery with Pixistock's photo subscription. This is an extremely popular stock photo destination for bloggers who are looking for feminine imagery and graphic templates.
4. Graphics, Fonts Subscriptions
Creative Market: This is where bloggers can get access to loads of high quality, unique digital assets such as fonts, photos, premium website themes, graphic templates and so much more! Buy credits here so the blogger in your life and use them towards whatever they wish!
Design Cuts: Specialize in design bundles that include fonts, graphics, photos, templates, perfect for creating marketing material to support all parts of the blogging business. Browse their graphic bundles that cater to every design need!
Photography & Props
5. SmartPhone Lens
Smartphone lenses are perfect when wanting to get some great shots with your phone on days when having a DSLR camera isn't convenient.
The Xenvo Pro Lens Kit is your best bet as it has excellent reviews and works for all iPhone, Samsung and Google phones + tablets. 
6. Photo Lightbox
A photo lightbox is an ideal gift for those starting up an eCommerce website, those who take food and product photos and anyone who wants to create beautiful photo flat lays.
The ESDDI Photo Studio Light Box has a built in LED lamp and reflective material, a multi-level dimmer, 4 board backdrops and a convenient waterproof cover.
7. Ring Light
Ring lights are professional, yet affordable lighting used to make photos Instagram or blog ready.
This popular ring light starter kit is ideal for self-portrait shooting, food photography and videos + has 2 colour filters and flexible dimmable settings.
8. Smartphone Tripod
This affordable smartphone bendy tripod makes it super easy for any online business owner to take photos and videos for social media or their blog. This works great for iPhones and for most other smartphones.
9. DSLR Camera
This Nikon D3500 24.2 MP is known as one of the best entry-level DSLR's you can buy and it's also the cheapest!
According to digitalcameraworld.com, "Beginner cameras don't have to be cutting edge – they have to be straightforward, affordable, and just plain good. And that's what the D3500 delivers."
Digital Camera World's Verdict:
Great value for money
All-round image quality
Beginner friendliness
Responsive autofocus
5fps continuous shooting
Courses (Blogging, Technology, Creative)
10. Adobe PhotoShop Course
Creative Live offers a number of Adobe PhotoShop classes that are perfect for those with an interest in design and who want to take their graphics to the next level for their business.
11. Self Made Entrepreneurship with Sara Blakely (CEO of Spanx)
This is a rare find of a gift and the value Sara's Self Made Entrepreneurship class would bring to any entrepreneur or wannabe entrepreneur is huge!
In the 14 video lessons, "Sara Blakely teaches bootstrapping tactics with her approach to inventing, selling, and marketing products that consumers love."

12. Affiliate Marketing for Bloggers
Affiliate marketing is just one way a blogger can make money and this online affiliate marketing course, taught by full time 6 figure blogger Carly Campbell, is the perfect place to learn how to earn!
Carly teaches 37 lessons to get any blogger (in any niche ready) to start marking good money with affiliates right away.
Desk/Office Accessories
13. Laptop Bag
These women's waterproof laptop shoulder bags are so unique as there are over 30 patterns to choose from. Love!
This is officially going on my wish list!
For the men, this vintage canvas and leather messenger bag is not only super durable but also stunning. There are also loads of handy pockets to keep everything organized.
14. White Board
For any blogger who has their own office having a whiteboard is a dream to stay organized all week. Check out this magnetic dry erase whiteboard and gift it for those who need more organization in their life!
15. The One Hour Content Plan
"The Solopreneur's Guide to a Year's Worth of Blog Post Ideas in 60 Minutes and Creating Content That Hooks and Sells." 
The author, Meera Kothand is a pro blogger and email marketing expert who helps bloggers unlock countless content ideas, to help sell products and services.
Buy the One Hour Content Plan now!
16. Bloggers Mug
Who doesn't love a good mug? Treat your blogger friend or loved one with an inspiring mug to enjoy all week long.
17. Cute Pen Set
What better way to help a blogger get more creative than with a super cute pen set.
This 10 colour fineliner pen set is the perfect go-to gift for any writer! It's also ideal for those who like to bullet journal and draw.
18. Laptop Stand
Having a good laptop stand is important for health and wellness to ensure good ergonomics and reduce neck and back strain. This adjustable laptop stand is really cool as it can be used in so many ways!
19. Blue Light Blocking Glasses
These LifeArt Blue Light Blocking Glasses come in 12 colours and block harmful blue light, release your eye fatigue when looking at the computer and provide 100% UV400 protection.
Blue light glasses are great for people who are on a device for 8+ hours a day (yes that is every blogger!). It is also great for those who get headaches from staring at their screen for too long.
Technology
20. External Hard Drive 
This Toshiba 2 TB external hard drive is really important to have as a backup for photos, graphics, blog posts and projects.
Available in 1TG, 2TB, 3TB and 4TB options.
21. Microphone
Having a good quality microphone is essential for entrepreneurs and bloggers when creating podcasts, Facebook lives, YouTube videos or any time good sound quality is needed. It's also an item many wouldn't purchase for themselves but would love to receive as a gift.
This 4 1/2 star Blue Snowball Microphone comes in 5 colours and is a USB microphone that connects directly to the USB port on a laptop or desktop.
22. Noise Cancelling Earbuds
Many bloggers work from coffee shops so noise cancelling earbuds are essential to staying on task.
These popular noise cancelling earbuds have stellar reviews due to super high sound quality, the comfort of the earbuds and 15 hours of playing time.
Blogging Books
23. How to Blog for Profit, by Ruth Soukup
Ruth Soukop is a 7 figure blogger and entrepreneur so bloggers want to know how she does it! This is why her book, How to Blog For Profit, Without Selling Your Soul is on every blogger's gift list.
Book Excerpt, "Ruth Soukup shares how she grew her own blog, Living Well Spending Less, to over one million monthly visitors, earns a full time income, and still is able to write about the things she truly cares about."
24.

Do It Scared: Finding the Courage to Face Your Fears, Overcome Adversity, and Create a Life You Love
A motivational read, also from Ruth Soukop, "Do it Scared combines practical, easy-to-implement strategies for overcoming fear and resistance in your life."
Ruth Soukup's book, Do It Scared is perfect for those who have big dreams but need a boost to make those dreams into reality.
25. The Essential Habits of 6 Figure Bloggers
The author and blogger, Sally Miller interviews 17 professional bloggers who make 6 figures plus every year. They share their strategies and habits that lead them to success.
The Essentials Habits of 6 Figure Bloggers has a lot of valuable information that new and intermediate bloggers will appreciate.
26. One Million Followers. How I Built a Massive Social Media Following in 30 Days
Brendan Kane builds social platforms for big brands, A-listers and stars.
One Million Followers teaches how to gain an authentic, dedicated and diverse online following by creating personal, unique, and valuable content that engages your core audience; and builds a multi-media brand through platforms like Facebook, Instagram, YouTube, Snapchat, and LinkedIn.
Self Care Gifts for Bloggers
Bloggers spend A LOT of time working, many easily blogging 60+ hours a week. This means bloggers get burnt out and self care is crucial to provide balance in life.
27. Essential Oil Diffuser
Diffusing essential oils is a great way (and the easiest way) to reap the benefits of natural essential oils and it's the perfect gift for anyone who works from home.
This small essential oil diffuser is perfect for a small room or home office and this larger diffuser from Simply Earth is excellent for large, open concept rooms.
28. Essential Oil Gift Box
The perfect gift for essential oil lovers or yourself! With this essential oil subscription box you get 4 essential oils plus ingredients, containers and extras you need to make 6 natural recipes.
When you purchase your first subscription box you get a FREE Big Bonus Box from Simply Earth + a $40 gift card with the use of my promo code PUTTHEKETTLEONFREE 
29. Tea Subscription Box
For tea lovers, these themed subscription tea boxes are a dream! (Yes I am a tea lover)! You can send a themed box of teas every month to family or a friend, which includes 5 premium loose leaf teas.
There are a bunch of different sales on right now!

30. Good Coffee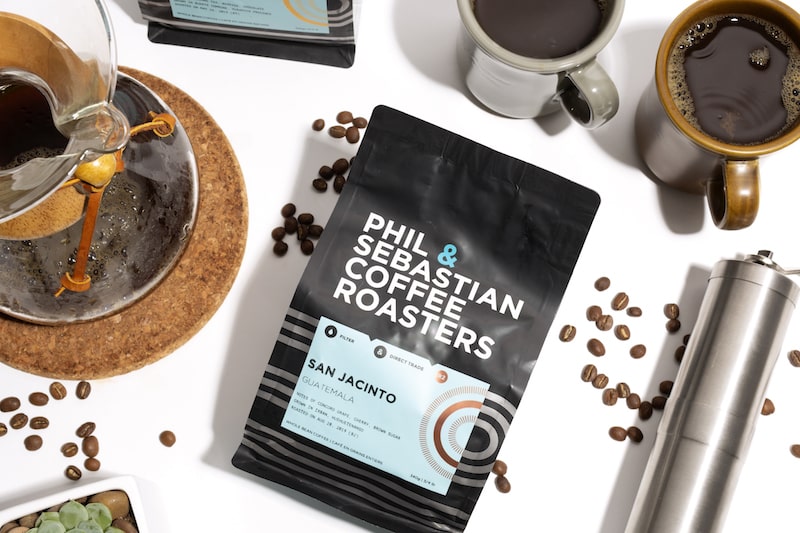 Coffee lovers, don't despair! This coffee subscription box from Phil & Sebastian can be fully customized! Select the type of coffee, the flavour profile you want to be included in the box. You can also select how often and how much coffee you'd like delivered.
The best part – there is free shipping all over Canada and the US!
**Use code SAVE50 for 50% off your first order!
31. Starbucks Giftcards
Bloggers spend a lot of time working in coffee shops so a gift card to Starbucks or a local coffee shop would be extremely appreciated by any blogger or solopreneur.
32. Spotify Subscription
With all the time spent on various devices having a subscription to Spotify is a real treat and honestly needed to get into a creative headspace.
33. Your Time
If you have time to give and no money this is actually an extremely meaningful gift to a blogger. Bloggers wear MANY hats and need help, but usually can't afford it – so give them the gift of time.
You can offer to:
Look after their kids
Promote content on social media
Be a test case for an article they are planning
Take photos of them – which they can use for social media
Also, if you have a business specialty that would be helpful, offer this.
Other Gifts Ideas For Bloggers – from my Shop!
If You Are a Blogger or Entrepreneur, What's Your Favourite Item from this Gift List?
Share in the comments below!
Related Gift Guide Articles:
Let's connect on social media!
Pinterest | Twitter | Facebook
PIN ME!